Aeroshell
Grease 33MS
$38KG
Trast Aerosupermarket (Aquiline Internationl Goup of Companies) offers AeroShell Grease 33MS from its premises at Sharjah International Airport Free Zone (SAIF Zone) available for immediate sales worldwide.
UAE Phone: +971 (6) 5570710, International phone: +8 835 1000 124 3547 e-mail:
Aeroshell Grease 33MS
Sale AeroShell Grease 33MS
Recently I have been seeing a new Shell grease, AeroShell Grease 33MS.
AeroShell Grease 33MS is the newest addition to the lineof AeroShell greases that aviation professionals have trusted for decades. AeroShell Grease 33MS is the sister product to our popular, Boeing approved, AeroShell Grease 33. With advanced a ddit ivesandthi ckeningagents, AeroShell Grease 33MS is formulated to provide exceptional resistance tocor rosionand the enhanced anti-wear, high-load protection required in many aircraft grease applications.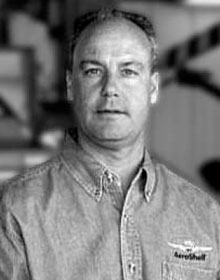 Brian Mitchell - Shell Turbine Expert
Designed with the latest technology lithium complex thickening agents as well as a carefully selected blend of synthetic base oils, AeroShell Grease 33MS is capable of operating at a ver y wide temperature range, – 73°C to +121°C. Additionally, unique additives including molybdenum disulphide are blended in to make AeroShell Grease 33MS capable of handling those tough, highly loaded, sliding applications requiring extreme pressure (EP) protection.
Remember, when making your grease selection always refer to the aircraft maintenance manuals or service bulletins to determine which products are approved for use in your application. AeroShell Grease 33MS is fully approved against MIL-G-21164D.
---
 Download MSDS AeroShell Grease 33ms

 AeroShell Products

 HIGH PERFORMANCE GREASES AND HYDRAULIC FLUIDS
BRIEFING NOTE
AeroShell Greases
Left Wheel Bearing and Right Axle
Perfect Partners
Out of AeroShell Grease 17
Modified Left Axle Nut
Fit Left Main Gear Leg
AeroShell Grease 33MS is the newest addition to the lineof
AeroShell Grease 33 is a synthetic multi-purpose airframe grease composed of lithium complex thickened synthetic base oil for enhanced corrosion inhibition and load-carrying ability. AeroShell Grease 33MS is particularly suitable for lubricating heavily loaded sliding applications.